Wellpoint Systems
Wellpoint systems are used to lower groundwater levels to provide stable working conditions. They consist of a series of small diameter wells that are connected by a header pipe to a wellpoint pump. The pump creates a vacuum in the header pipe drawing water up from the ground. Welpoints are typically installed along or around an excavation. The height to which water can be drawn by vacuum in this way is approximately 6 metres. To function at greater depths, well points can be installed in stages as the excavation proceeds.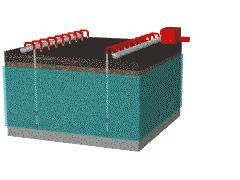 Why Use Wellpoint Systems?
Wellpoint systems are particularly suited to dewatering for shallow foundations and excavations, so they are often used for pipeline trench work. A wellpoint system can be installed quickly in most ground conditions and they are easy to maintain.
With perhaps one of the most extensive and modern fleet of wellpoint installation equipment in the India, Prasanth Dewatering is well equipped to deal with all wellpoint requirements. Our highly qualified team have worked on projects ranging all over the India from as far south as the Channel Islands to the north coast of Scotland and from the west of Wales to the eastern tip of Norfolk.
Valuable advice and assistance is only a call or click away
Get A Quote
Our Client Say's
Here's what our customers have to say about us
The Quality of their work truly professional and highly satisfactory matching the industrial standard. Prasanth Dewatering is very engaging in providing Deep well Dewatering Process.
Mr.Kuppan - Simplex Infrastructures LTD.
Prasanth Dewatering complete their work quickly and efficiently, to the very highest standard with reliable and effective equipment. We are thoroughly satisfied with their service.
Mr.Ramaswamy - Appaswamy Real Estate.
Prasanth Dewatering was entrusting with work of providing Dewatering systems. I really like the facilities provided by Prasanth Dewatering and satisfied my queries.
Mr.Amar Nath - Mantri Developers.
Sectors
Basements

Infrastructure

Overpumping & Bypass
Ports, Canals & Marine

Shafts, Tunnels and Pipelines

Underground Rail & Metro